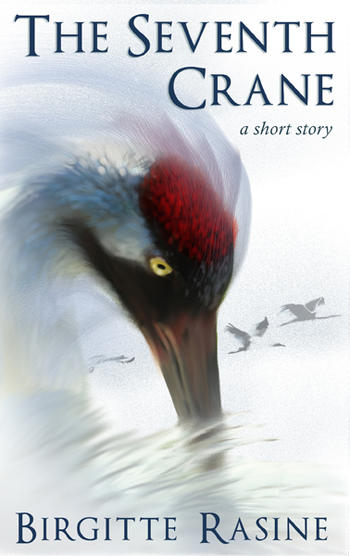 PRAISE and REVIEWS
The Seventh Crane once again displays Birgitte Rasine's strong descriptive skills and powerful writing. Every word to the point, we follow the cranes and the female protagonist through the various stages of life. The Seventh Crane does not really tell a story, but rather invites us to study our own story, the one we ourselves are living.
— Mirel Abeles, author
* * *
This is a beautifully lyrical short story. With a few strokes and a sparsity of words, the author tells the story of a woman's journey from baby to middle-age through her silent communion with a flock of cranes. I enjoyed the story very much. It is one I will read many times as the meaning is much deeper than what first meets the eye.
I fell into this story; it's been a long time since I could say this. I, in fact, became so engrossed in the cranes' and the infant/girl/woman's stories that I nearly missed my bus stop. The imagery was vivid, the emotions, while not explicitly stated, were real. 
I rarely read this type of story, but I am sincerely happy that I read this one… It makes me appreciate the beautiful things in life that I tend to miss in the hectic world we live in.
— Reader review on Amazon
* * *
[This story] held a strong resonance with me as I am also at the jumping off point with a strong desire to create a life that makes me excited to want to get up every morning! So, THANK YOU, Birgitte Rasine, for writing a piece that can inspire others to follow their passion encouraging them to spread their own wings to become fully what they secretly envision in the silent movies of their souls!
— Reader review on Amazon
* * *
The Seventh Crane
Choose your preferred format
:
Would you do things differently if you could see your life from 36,000 feet?
"When you meet human beings with honor and dignity in their hearts, protect them, for they will respect you," the Fifth Crane always told the hatchlings.
"The Seventh Crane" is the story of a young woman who grows up alongside six whooping cranes, the legendary but endangered migratory birds. As fascinated with her as she is with them, the cranes accept her into their flock, imparting to her a broader, deeper worldview that her human family can never provide.
But it's not until she realizes professional and personal fulfillment that she learns the secret of the missing seventh crane.
Reminiscent of Richard Bach's much-loved "Jonathan Livingston Seagull," "The Seventh Crane" is an enchanting but unsweetened allegory about the human experience and the importance of appreciating the totality of your life regardless of your age.
Allegory about the importance of appreciating the totality of your life regardless of your age.