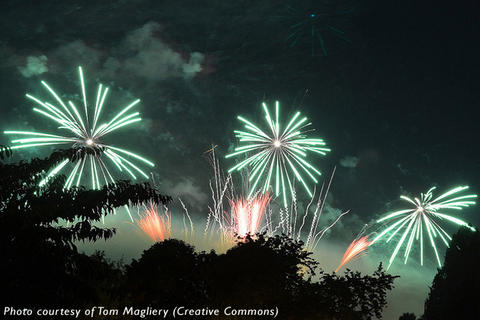 In my inaugural blog post for The Write Practice, I asked three key questions: who you are as a writer, where you're going, and what you need.  Today, on this first day of a bright new year,* I would like to invite you to make a commitment.
A commitment to you the writer and your writing. A commitment to rediscovering why you write.
Somewhere deep within every author burns an unquenchable flame. This is the desire to create, the need to share our stories, the pull to open minds, enthrall hearts, and to make a difference somehow, somewhere, in a reader's life.
But the flame needs focus. If you are to achieve impact as an author, you must align your work with the reason why you write. Otherwise you're spinning your wheels against yourself.
Below I list four primary reasons we writers write. Disagree? Post your argument in the comments! Feel there are others missing? Do tell! The floor is yours.
To Change the World
Let's not be shy! Let's start with the most shamelessly ambitious reason of them all. Nothing less.
Do mere words possess such power? In truth, words above all possess such power. Writers and their works have been influencing the course of human civilization since humanity learned to read. (I know, most of the writers listed on the linked sites are men—so ladies, get to work! Time for you to make your writerly mark on the world!)
In my humble opinion, this is probably one of the loftiest (and head-spinning) reasons to be a writer. Composed with the right intention, passion, and eloquence—not to mention the right timing—words carry power the likes of which the One Percent can only dream about. No amount of money, fame, or status can replace the significance and impact of altering the course of history, opening people's minds, or improving lives.
But if the idea of having to become the next Nelson Mandela to make your mark is a little too overwhelming, not to worry. You can change your world, as opposed to the world.
There is also no literary formula or prerequisite to making your/the world a better place. You can write fiction or non fiction. You can write novels, stories or essays. Whatever form your writing takes, it needs passion and it needs purpose.
And a really wide audience.
To Leave a Legacy
Perhaps nothing can carry your name through generations the way a book or a work of art can. Why is it that we remember the DaVincis and Michaelangelos, the Mozarts and the Rolling Stones, the Shakespeares and the Gabriel García Márquez's, but not the wealthy merchants or politicians of the same eras? Why do we value paintings and books far over and above the banknotes of the same societies?
Why is it that money can measure the success of a book, but a book never tells us a thing about the currency it's sold in?
Because the human heart and soul are wired for art and beauty, not money and influence.
Feel free to disagree with me, but think about it. We think we want money and power, but that's not what makes us happy. It doesn't inspire or improve our talent. All it does is provide us with resources and capital, possibly ensure a comfortable life, and influence over others, but at the end of the day, what have we achieved?
It is when we connect to our core as human beings and when we fully participate in the irreplaceable experience of life, that we learn to align our words with our purpose.
To Figure Out Who We Are
In a recent blog post elsewhere on The Write Practice, some of us discussed whether a writer writes only about what they know. Perhaps some do, but there is much more to a writer's craft than direct individual experience—plenty of great literature has been written that did not come from the author's personal life.
But some—if not many—of us write for a reason that's just as cathartic as it is creative. Often, growing up or living in abusive or otherwise less-than-ideal circumstances will drive a person to turn to writing as therapy or simply escape. In this form, writing can prove to be a more powerful tool of self-analysis and healing than expensive sessions with a life coach or a therapist.
Writing is also an extremely effective tool to share or disseminate knowledge or information we feel is important for others to have. Or it can serve as a guiding light on our path in life, as we discover our inner selves and what it is that drives us.
In all of these ways and more, writing illuminates who we truly are.
To Be Rich, Famous, or Otherwise Celebrated
Don't be afraid to say this is one of your reasons. In principle, there is absolutely nothing wrong with it. But be sure this is really what you want, and be able to say why. What will being wealthy truly give you, besides the obvious financial freedom? Will it change who your friends are (or were), or your relationship with your family? Could it change you or your writing?
When we read the dizzying fairy tale stories of riches and success like those of J.K. Rowling or Dan Brown, we forget the media doesn't tell us everything. We don't think of the daily details of a celebrity author's life, like being overwhelmed with requests, having your email account hacked (like "Sex and the City" author Candace Bushnell), and at least a partial loss of public privacy.
Then there's the sheer work involved. I read somewhere recently that Lady Gaga typically doesn't see the light of day when she rehearses: she goes from hotel to parking garage to the music venue and back again, for days on end. The kind of renown she has built for her brand takes nearly superhuman effort, vision, strategy, and dedication. Long-term unrelenting commitment. Well-known writers sing a similar song.
I know why I write. Do you?
Make a unique New Year's Resolution. Nevermind the gym or the new diet you've been hearing about. Resolve to be a better, stronger, more focused writer this year. Most importantly, align your work with the reason why you write. 
Note: The original version of this post was first published on The Write Practice on January 1, 2014.